Squire's Garden Centres announce Charities of the Year
Company: Squire's Garden Centres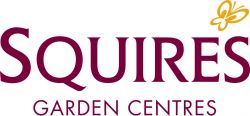 Squire's Garden Centres has announced their 'Charities of the Year' for 2021-2022. The charities include Challengers, LinkAble, JAC, Shooting Star, White Lodge, Royal Surrey Charity and many others.
Team members at each of Squire's sixteen garden centres chose the local charity that they wanted to support, and they will be fundraising and helping raise awareness of their chosen charity throughout the year.
Sarah Squire, Chairman of Squire's Garden Centres commented; "We believe it is so important to work with and be part of the local communities in which we are situated, so every year each of our garden centres support a local charity that is close to their hearts. We will help raise awareness of our chosen charities as well as fundraise for them. As always, we are extremely grateful to our customers and colleagues for their support and generosity in helping these brilliant local causes."
The sixteen local charities that Squire's is supporting in 2021/22 are:
Squire's Centre

Charity

Details

Badshot Lea

Phyliss Tuckwell

Phyliss Tuckwell – Hospice care for adult patients and their families living with cancer or terminal illness.

Chertsey

White Lodge

White Lodge - Provides services that enable those with a range of disabilities, their families and carers to lead fulfilling lives.

Cobham

Dyscover

Dyscover - Gives long-term support and opportunities to people with aphasia, helping them to develop strategies for communicating, and providing help and support for partners, carers and other family members.

Crawley

Home Start

Home Start – A local community network of trained volunteers giving expert support to families with young children facing challenging times.

https://www.home-start.org.uk/home-start-crawley-horsham-mid-sussex

Frensham

Woodlarks Camp Site

Woodlarks Camp Site – Camping and outdoor activities for children and adults with disabilities.

Hersham

Princess Alice Hospice

Princess Alice Hospice – Provides end of life care to help people live every moment to the full in comfort and dignity, by creating a space, at home or in the hospice, where families can enjoy special moments and create precious memories together.

Long Ditton

Voices of Hope

Voices of Hope – The charity was founded upon the running of choirs to help see hope restored to people who are facing the harshest of life's battles. During the pandemic they also helped to feed the isolated and vulnerable of Kingston borough.

Milford

Royal Surrey Charity

Royal Surrey Charity – They aim to transform healthcare for people in South West Surrey by providing state of the art equipment, re-developing wards, investing in staff development and funding innovative research for patients at the Royal Surrey County Hospital.

Reigate

Stripey Stork

Stripey Stork – Based in Reigate they accept donations of toys, clothes and other essential items for babies and children, and rehome them with local families experiencing hardship.

Shepperton

Shooting Star Children's Hospices

Shooting Star Children's Hospices – A leading children's hospice caring for babies, children and young people with life-limiting conditions. They support families across Surrey and London from diagnosis to end of life and through bereavement with a range of nursing, practical, emotional and medical care.

Stanmore

Michael Sobell Hospice

Michael Sobell Hospice – The local hospice for Hillingdon and North West London. They provide free expert palliative care and support for local people facing life limiting illnesses.

Twickenham

Vineyard Community

Vineyard Community – A charity with community at its heart, they help individuals overcome personal crises (homelessness, addiction, loneliness and mental health), and build stronger bonds with the community at large.

Washington

St Barnabus House

St Barnabus House – Based in Worthing, they provide palliative care to adults with life-limiting illnesses, both at the hospice and at home.

West Horsley

Challengers

Challengers – They provide inclusive play and leisure opportunities across the South East – places where disabled children and young people can enjoy fun activities and make friends.

Woking

LinkAble

LinkAble - A charity based in Woking which helps children and adults with learning disabilities. They offer people activities and experiences that they struggle to access in the wider community, supporting them to learn new skills, form lasting friendships and lead fulfilling, independent lives.

Wokingham

JAC

JAC (Just Around the Corner) - A Christian charity based near Wokingham, they offer children and young people a range of hands-on activities including arts, crafts, music, carpentry, mechanics, horticulture and pottery, and are probably best known for their work with horses.
Becky Cox, Partnerships Manager at Challengers said; "Challengers are delighted to be chosen as Squire's West Horsley's Charity of the Year. Squire's support enables Challengers to provide fully inclusive play and leisure opportunities for local disabled children and young people. At Challengers, the young people are able to play, make friends and try new activities while giving their families much-needed respite from care responsibilities. This partnership is a fantastic opportunity to raise awareness of our amazing cause, as well as raise much needed funds, and we are really excited to work with Squire's over the next year!"
Rhys Parker, Fundraising and Communications Manager at LinkAble said; "We are delighted that LinkAble has been chosen by Squire's Woking as their charity of the year. It is a great opportunity, and one we are looking forward to, for us to work together to raise funds and awareness of our work supporting children and adults with learning disabilities in Woking and the surrounding areas."