Join the virtual Garden Re-Leaf Quiz

Company: Greenfingers Garden Re-Leaf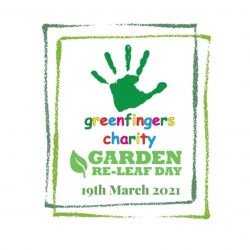 Still not sure what to do for Garden Re-Leaf Day next week (Friday 19th March), and worry you might have left it too late? Worry not, as Greenfingers is pleased to confirm that it will be launching its first ever virtual Garden Re-Leaf Day Quiz, hosted by the ever gorgeous Greenfingers patron, Anne-Marie Powell, and sponsored by Evergreen Garden Care.
Taking place at 7:30pm on Friday, the quiz will test entrants on their general knowledge and gardening know-how and will provide a lively and fun way to kick start the weekend whilst rounding off a hectic day of FUNdraising for Garden Re-Leaf Day's 10th anniversary.
Open to everyone, the virtual quiz is guaranteed to be a lively event under the watchful eye of garden designer, author and long-term Greenfingers supporter, Anne-Marie Powell. Sponsors Evergreen Garden Care will be participating in the quiz also, putting the knowledge they have gained as market leaders in garden care to the test. No pressure!
Entry to the quiz could not be easier. Simply email Greenfingers Director of Fundraising & Communications, Linda Petrons via linda@greenfingerscharity.org.uk to secure your ticket. Suggested donation for taking part is just £10.00 per person.
Get involved in Garden Re-Leaf Day 2021
Since its inception in 2012, Garden Re-Leaf Day has been a key event within the garden retail calendar. Each year hundreds of people from across the industry, including suppliers and retailers, come together to undertake an incredible series of fundraising events. During the last nine years the event has raised in excess of £660,000, all of which has gone towards helping the charity design and create magical gardens in children's hospices throughout the country.
Registration for the 2021 event is now live, and Greenfingers is also on the look-out for sponsors of the event. To find out more please contact Linda Petrons by emailing linda@greefingerscharity.org.uk
FUNdraising ideas for Garden Re-Leaf Day 2021
You will find a host of ideas in the Garden Re-Leaf Fundraising pack but here's a few ways you can get involved and help Greenfingers to continue creating magical gardens in children's hospices across the nation:
Plantathons are perfect for generating some buzz instore whilst simultaneously generating more stock and donating to Greenfingers. Previous events have included 12- and 24-hour Plantathons.
Hold a virtual quiz, with a minimum donation for all entrants.
Raffles and tombolas are a great way of getting lots of people involved. Gather prizes from around your store, or ask friends and colleagues to donate prizes, before selling raffle tickets ahead of the grand unveiling of the lucky winner!
Cake sales and coffee mornings – are simple yet effective FUNdraisers.
An online auction is a great way to raise funds and involve your friends and colleagues
Team up with friends and colleagues to complete a virtual walk or cycle challenge. Set yourselves a target – 100 miles for example – and work together to achieve it. Walk around your local area, on a treadmill, whatever it takes! Keep in touch via Zoom to keep the group enthusiasm going!
For more FUNdraising ideas or to obtain a copy of the 2021 fundraising pack drop Linda a line - she'd love to hear from you.