Company: David Domoney & Illumination Street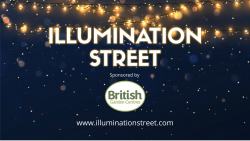 British Garden Centres group takes exclusive sponsorship of the national Christmas campaign, Illumination Street for a second year. The campaign motivates the nation to brighten up their front gardens with the spirit of Christmas. It is designed to enhance and celebrate the magic of Christmas with lights, plants and community spirit which will coincide with National Illumination Street Week from 6th to 12th December 2021.
Launched by Broadcaster David Domoney and backed by The Daily Express, Illumination Street enjoys hundreds of entries from all over the nation, in all shapes and sizes, some for fun and others for charity. In total, Illumination Street entrants have raised over £200,000 for various charities and we're proud to say the prize money assisted them in reaching their targets.
From 1st November 2021, we will launch Illumination Street to the public to start entering their displays. The publicity surrounding the campaign has included Illumination Street TV, national newspaper coverage, TV news coverage, online blogs, advice, and a full package of social media platforms to encourage the nation outdoors and to engage with their community.
David Domoney, the campaign's founder, said: "Illumination Street is a campaign that encourages, recognises and rewards the incredible efforts that homeowners and communities go to lighting up their homes and streets for Christmas. The Illumination Street national campaign, now in its third year, gives free advice and support to the nation to brighten up their front gardens, streets, and homes to spread the festive cheer that is much needed after the tough year we have all had. So many of the Christmas displays aim to raise money for charities that are close to their communities' hearts, which adds even more magic to this time of the year, and we want to help promote and support their masterpieces by showing the nation their hard work. This is why there is also an Illumination Street Competition – to find the best of the best. A good way to get started is to go on a trip to your local garden centre, which are the best port of call for advice when creating a spectacular Christmas display in your home and garden, they will give you good free advice on many aspects of outdoor illumination."
Boyd Douglas-Davies, Director British Garden Centre Group, said "We are incredibly excited to support Illumination Street for the second year running. The campaign brings so much joy to our streets, with support from all over the country for creative displays that inject that festive feeling. The transformations are heart-warming and continue to lift our spirits after a tumultuous couple of years. Many raise money for good causes and I am really looking forward to seeing this year's displays."
The Illumination Street campaign will be holding a highly anticipated national competition with a substantial prize pot up for grabs. There are no special requirements to enter, it is open to the public and everyone who wants to spread the joy this festive season.
Prizes total £5,000 worth of British Garden Centre Vouchers split across the following categories: -
Best Front Garden Large Outdoor Display 1st £1000, 2nd £500, 3rd £100
Best Front Garden Small Outdoor Display 1st £1000, 2nd £500, 3rd £100
Best Community Display 1st £500, 2nd £200, 3rd £100
Best Children's Display 1st £100, 2nd £75, 3rd, £50 and
10 runners up £25 each
Best Front Door Wreath Display: 1st £100, 2nd £50, 3rd £25
Online Best Children's Display: 1st £100, 2nd £50 3rd £25
Online Best Front Door Display: 1st £100, 2nd £50, 3rd £25
For more information please contact:
Contact Caitlin Bellamy via info@illuminationstreet.com or 01926 641 997.