Garden Re-Leaf supporters unveil plans for the big day
Company: Greenfingers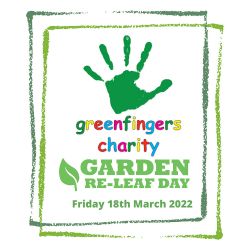 Since the Greenfingers charity announced the return of the Garden Re-Leaf Sponsored Walk & Cycle Challenge on March 18th, the organising team have been inundated with individuals and corporate teams confirming their place at the start line. Not only this, but many others have also confirmed their plans for the big day – let's find out more!
The Garden Re-Leaf Sponsored Walk & Cycle Challenge
One of the most popular activities in the Garden Re-Leaf roster, the Sponsored Walk & Cycle Challenge has helped to raise over £730,000 since its inception in 2012. This year the event will welcome teams from across the industry including Durstons Garden Products, Deco-Pak, GIMA, Mr Fothergill's, as well as Glee, headed up by Event Director, Matthew Mein, who was the brains behind the walk all those years ago and has since completed every walk.
Joining Matt on the start line will be fellow Garden Re-Leaf 'all-star' walker, Kimberley Hornby from Hornby Whitefoot PR, alongside her wider team, as well as Capi Europe's Kate Ebbens, who will be using the walk as part of her training for the London Landmarks Half Marathon on April 3rd, which she will be running to raise funds for Greenfingers.
Cyclists set to tackle the course will include Simon Mullholland from Westland; Rivington Garden Designs' Beverley Coleman, Chris Ramsden from Hozelock; and Frost Garden Centre's Jack Goodhand. Samantha Broadway, James Nutt, Jon Honeyball, Michael Wallis and Amanda-Jane Camp from Mr Fothergill's will also be saddling up to join the fun!
Of course, the walk is only possible thanks to those who work behind the scenes to support on the day. This year, water bottles will be sponsored by Hozelock, whilst Jane Lawler and Colin Wetherley-Mein have volunteered to help on the day. To find out more about other sponsorship and support opportunities please get in touch with Linda Petrons. She would love to hear from you!
Garden centre support
Each year, garden centres from across the country pull out all the stops to celebrate Garden Re-Leaf Day and use this as the ideal opportunity to kick start the gardening season. In fact, many make it Garden Re-Leaf weekend to help maximise the FUNdraising total across three days. So far this year, garden centre support has been confirmed by British Garden Centres, Millbrook Garden Centres and The British Garden Centre Group who will be holding a series of events – more details to follow shortly. And, at Perrywood Garden Centre, the much-loved quiz is back!
Other activities
Leading brands QVC and AMES UK will also be showing their support, watch this space for more information about their generous support of the event.
Elsewhere, Greenfingers Trustee, Rob Jones (of The Garden Design Company) will be offering complimentary garden blitzes or free garden design consultation to anyone that makes a £250 (suggested) donation to the charity. Places are strictly limited so Rob is asking any interested parties to contact him directly to secure one of these highly coveted prizes.
How to get involved in Garden Re-Leaf Day 2022
Registration for the 2022 event is now live, and as already mentioned, Greenfingers is also on the look-out for sponsors of the event. To find out more please contact Linda Petrons by emailing linda@greenfingerscharity.org.uk
FUNdraising ideas for Garden Re-Leaf Day 2022
Here's just a few ways you can get involved and help Greenfingers to continue creating magical gardens in children's hospices across the nation:
Plantathons are perfect for generating some buzz instore whilst simultaneously generating more stock and donating to Greenfingers. Previous events have included 12- and 24-hour Plantathons.
Hold a virtual quiz, with a minimum donation for all entrants.
Raffles and tombolas are a great way of getting lots of people involved. Gather prizes from around your store, or ask friends and colleagues to donate prizes, before selling raffle tickets ahead of the grand unveiling of the lucky winner!
Cake sales and coffee mornings – are simple yet effective FUNdraisers.
An online auction is a great way to raise funds and involve your friends and colleagues
Team up with friends and colleagues to complete a virtual walk or cycle challenge. Set yourselves a target – 100 miles for example – and work together to achieve it. Walk around your local area, on a treadmill, whatever it takes! Keep in touch via Zoom to keep the group enthusiasm going!
For more FUNdraising ideas or to obtain a copy of the 2022 fundraising pack drop Linda a line - she'd love to hear from you.