Garden Re-Leaf supporters unveil plans for the big day
Company: Greenfingers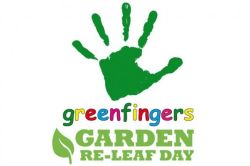 With a handful of weeks to go until Garden Re-Leaf Day 2023 (Friday, March 24th), supporters from across the garden retail sector (and beyond!) are busy getting ready for their day of FUNdraising. Here we find out more about who will be supporting this year's event in aid of the children's hospice garden charity, Greenfingers.
The Garden Re-Leaf Sponsored Walk & Cycle Challenge
One of the most popular activities in the Garden Re-Leaf roster, the Sponsored Walk & Cycle Challenge has already helped to raise hundreds of thousands of pounds, with the million-pound target firmly on the horizon.
This year, a new North Walk has been introduced. Organised by long-term Greenfingers ally, Jane Lawler, and supported by Will Armitage, Jenny Douthwaite and Martin Cowell, the new 'North Walk' will make it even easier for those manufacturers and retailers based in the north of the country to join the annual Garden Re-Leaf activity without having to travel as far or spend money on overnight accommodation to ensure they are at the start line on time.
Participants confirmed include a team of six from AMES UK made up of Paul North, Nick Jones, Emily Green, Lloyd Ferguson, James Hoad, Craig Keyworth, and Russell Thompson, plus Nikki Hall and Kevin Hall from Apta. Evergreen Garden Care's Richard Cartwright and DB Landscape's Darren Bosworth and Anna Roochove will also be taking on new walk challenge in 2023. Together the walkers will take in 'Last of the Summer Wine' country, including moorland, riverside paths, pretty villages and reservoirs, throughout the 12-mile circular route. A handful of spaces remain for the North Walk so anyone wanting to take part is urged to sign-up now to avoid missing out!
The South Walk and Cycle Challenge – which starts and ends at British Garden Centre's Tring Garden Centre – will see lots of familiar faces return as well as welcoming new teams to the day as word spreads about how fun the day can be! At the start line on March 24th will be Greenfingers Trustee, Richard Claxton, plus teams from Vitavia Greenhouses, Capi Europe, British Garden Centres, Glee, Evergreen Garden Care, Johnsons Lawn Seed, SBM Life Science, Husqvarna, Hornby Whitefoot PR, Potting Shed Media (Garden Trade News), plus individual walkers such as August Bernstein and The Gluttonous Gardener, Alice Schwausch.
Tackling this year's cycle challenge will be Simon Mulholland from Westland Horticulture, and Decco's Casey Warwick, plus Neil Sewell from 2Pedalz.com, Ian Clark and Andy Bean from Taylors Bulbs, Tom Glanvill from Christie & Co and Danny Adamson from Stocksigns.
Of course, the Garden Re-Leaf Day Walk and Cycle Challenge is only possible thanks to those who work behind the scenes to support on the day. This year, support will be provided by Capi as well as local Greenfingers volunteers. To find out more about other sponsorship and support opportunities please get in touch with Linda Petrons. She would love to hear from you!
Garden centre support
Each year, garden centres from across the country pull out all the stops to celebrate Garden Re-Leaf Day and use this as the ideal opportunity to kick start the gardening season. In fact, many make it Garden Re-Leaf weekend to help maximise the FUNdraising total across three days. So far this year, garden centre support has been confirmed by British Garden Centres, Millbrook Garden Centres, Thaxters Garden Centre, The Old Railway Line, Haskins Garden Centres, Perrywood, and Brookfields Garden Centre who will be undertaking an in-store cycle challenge.
Other activities
Leading TV sales channel, QVC, has vowed to once again support Garden Re-Leaf. This year QVC's Garden Re-Leaf special will take place on March 4th, with a host of garden products up for grabs with proceeds from all sales heading straight to the Greenfingers charity.
How to get involved in Garden Re-Leaf Day 2023
Registration for the 2023 event is now live, and as already mentioned, Greenfingers is also on the look-out for sponsors of the event. To find out more please contact Linda Petrons by emailing linda@greenfingerscharity.org.uk
FUNdraising ideas for Garden Re-Leaf Day 2023
Here's just a few ways you can get involved and help Greenfingers to continue creating magical gardens in children's hospices across the nation:
Plantathons are perfect for generating some buzz instore whilst simultaneously generating more stock and donating to Greenfingers. Previous events have included 12- and 24-hour Plantathons.
Hold a virtual quiz, with a minimum donation for all entrants.
Raffles and tombolas are a great way of getting lots of people involved. Gather prizes from around your store, or ask friends and colleagues to donate prizes, before selling raffle tickets ahead of the grand unveiling of the lucky winner!
Cake sales and coffee mornings – are simple yet effective FUNdraisers.
An online auction is a great way to raise funds and involve your friends and colleagues
Team up with friends and colleagues to complete a virtual walk or cycle challenge. Set yourselves a target – 100 miles for example – and work together to achieve it. Walk around your local area, on a treadmill, whatever it takes! Keep in touch via Zoom to keep the group enthusiasm going!
For more FUNdraising ideas or to obtain a copy of the 2023 fundraising pack drop Linda a line - she'd love to hear from you.