Cultivation Street's Community Garden Week returns in 2021 to bring people together
Company: David Domoney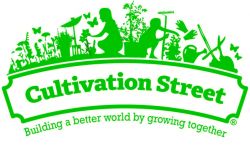 The UK's leading community and school gardening campaign Cultivation Street sponsored by Miracle-Gro is once again celebrating the amazing efforts of people across the UK who create green spaces.
Despite the huge challenges created by the events of last year and the restrictions placed on community gardens, the community spirit across Britain was a beacon of hope for many. In fact, through social media they were able to bring people together and celebrate what they had achieved. When it was safe for the health restrictions to be lifted, the communities managed to grow flowers to create beautiful bouquets to brighten the day of care home residents, whilst others harvested fresh produce for food parcels for vulnerable neighbours.
Cultivation Street founder David Domoney says, "Each community garden is different, but they all have one thing in common – the ability to bring people together using the power of nature to inspire, heal, and make people happy."
This Community Garden Week, we want to hear from schools and communities that have spread goodness through gardening over the past 10 years. Whether the garden is used for an educational hub to spread knowledge about the process of growing food, or as a space for rehabilitation and focus to aid mental and physical health.
David added "The work that people across the UK do to help forge welcoming communities is something I feel as a nation we should be very proud of. Gardening has the ability to bring people together in a positive way. This is why Cultivation Street wants to see the amazing efforts that communities and schools have done, whether it was this year, last year, or 10 years ago. Get involved and share your memories and stories using the hashtag #CommunityGardenWeek."
Charted Horticulturist, broadcaster, and author Domoney, launched Cultivation Street nine years ago, with the outlook to brighten up our streets and bring communities together. It is now the largest national community gardening campaign, highlighting the incredible efforts of community gardens. School and community gardens are rewarded for their ability to improve the lives of volunteers and members and spread positivity. Once again, Cultivation Street and its sponsor Miracle Gro® are asking schools and community gardens across the nation to share their stories, with cash prizes up for grabs as rewards for the best gardens.
Share your community gardening stories using #CommunityGardenWeek.