AMES UK experience the value of volunteering
Company: AMES UK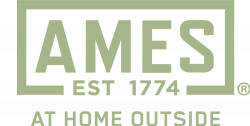 Last week on Garden Re-Leaf Day (March 18th), the AMES UK team froze the business and asked its staff from across the La Hacienda, Kelkay and Apta brands to join them at a special volunteering event to help support the Greenfingers charity. Little did they know just what an impact this day would have…….
The eager AMES UK volunteers were stationed at eight children's hospices across the country, all of which had previously enjoyed the introduction of a therapeutic garden space designed and funded by the Greenfingers Charity. These spaces needed a loving hand to get them ready for spring, which is where the AMES UK teams stepped in. However, the day was so much more than just a simple spring clean.
AMES UK's Managing Director, Paul North, summarises perfectly by saying: "Every one of these gardens benefited from some hands-on help, whether it was digging, planting, hoeing, pruning restoring water features, repairing and painting broken fences, or helping to build new habitats for the wildlife that call the garden 'home'.
"More than this, however, the time spent has helped to breathe new life into spaces, making them better places for the residents to spend time in. These are truly magical spaces and having the opportunity to spend time in them together as a team and with the on-site staff was an experience we will remember for a long time. It has left a mark on us that we didn't expect."
There is no question that AMES UK pulled out all the stops, going above and beyond to ensure that time spent onsite at the hospices was as productive as can be. The in-house gardener at Rainbows House Hospice in Loughborough remarked that the team had saved them over two months of work - not bad for one day spent in the garden! Importantly, this time saved will enable the Rainbows staff to bring forward its lead times for further development, meaning families and patients can start benefiting from scheduled updates sooner than planned.
Echoing the gardeners' comments, Rainbows' Facilities Manager, Andrew Lupton said: "The difference they have made is incredible and one which we did not envisage would be possible in such a short period of time; nothing was too much trouble."
Annie Burt, Trusts & Foundations Manger at Richard House Hospice in London, added: "We must say a huge thank you to AMES UK for providing such incredible volunteers to help with our garden. After they left, our gardener, Derek, came inside and was absolutely beaming about the quality of the work they did. He said he'd never seen such an amazing turn around in one day."
It wasn't just the staff that were quick to enjoy the fruits of AMES UK's labour, however. A little boy who is a patient at Richard House Children's Hospice had been watching with interest the developments in the garden throughout the day. Once the AMES UK team were finished, he headed out into the garden, choosing the garden's Dragon Boat as his seat of choice. Now surrounded by a stunning new planting scheme, the boy enjoyed his snacks and the feel of the sunshine on his face. His nurse remarked how happy he was to be back in the garden again. A small impact but one that AMES UK hopes will be echoed in all the gardens the teams worked within.
With the joy of gardening clear for all to see, it is hardly surprising that the AMES UK team members are now closer than ever. Before Garden Re-Leaf Day many had not met before in person, but the day offered opportunities to get to know their colleagues, forge new friendships and learn new ways of working together. Whether working as part of a larger group, under the instruction of the hospice gardeners, or together as a smaller group to complete key chores, the day has resonated throughout the business, with a unified team, plenty of banter, lots of laughs and 'the best workday ever', the order of the day.
Nicola Sykes, AMES UK's People Director, commented: "Working for a business such as AMES UK, which has an unwavering commitment to its people, it perhaps comes as no surprise that all colleagues were offered the opportunity to give a day of service to a very worthwhile cause. And our colleagues left no stone unturned, ensuring that very sick children and their families have a retreat in the toughest of times. The passion of our people to not only clean up the outdoor spaces but to transform them into something remarkable makes me feel very proud to be part of the AMES team."
Paul North added: "There is no question that we were all humbled by our volunteering experience. Being able to see how much these gardens mean to everyone involved in the hospice was a true honour. We cannot thank each and every hospice enough for allowing us to join them, especially during a very busy time for many of them. I think the day could be best summarised as 'brain food for the soul' and an experience we have no doubt we will repeat many times in the future. It really was the most extraordinary experience."
In fact, AMES UK has committed to providing additional support where it is needed most. During his time onsite at Rainbows Children Hospice in Loughborough, Paul pledged additional manpower, materials and décor items - including large water features and pots and planters - in the coming weeks, to enable Rainbows to create something new, fresh, vibrant, and useable. The same support will be available directly to all other hospices visited by AMES UK.
The teams also donated a range of hand tools to each hospice gardening team from the True Temper Ireland range; tools which they hope will help to tend to these gardens for many years to come.
The Greenfingers gardens which benefitted from the AMES UK special treatment were Andy's at St Andrew's Hospice, Grimsby; Forget Me Not Children's Hospice, Huddersfield; Rainbows Hospice for Children and Young People, Loughborough; Ty Hafan, South Wales; Richard House Children's Hospice, London; Keech Hospice Care, Luton; EACH Milton, Cambridge; and Jigsaw, Cumbria's Children's Hospice, Carlisle.
Linda Petrons, Director of Fundraising & Communications at Greenfingers, said: "We often hear that Garden Re-Leaf Day is a great opportunity to bring teams together and so we're delighted to hear that the day resulted in some incredible team building stories. A huge thank you to the AMES UK family for their generosity of time and spirit, and of course to the hospices we're working with for entrusting their gardens in the hands of those involved. "
Find out more
To find out more about Garden Re-Leaf and the Greenfingers Charity, please visit www.greenfingercharity.org.uk.
Further details regarding AMES UK's market leading brands can be found at www.kelkay.com, www.lahacienda.co.uk and www.apta.co.uk. For more information on The AMES Companies please visit www.global.ames.com