Zest 4 Leisure set to unveil innovative new products at Glee
Company: Zest 4 Leisure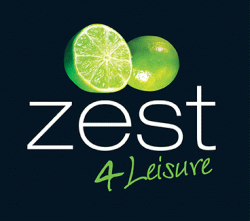 Award-winning Zest 4 Leisure is set to launch a raft of innovative new products at Glee 2019 including a new Zest Aggregate decorative gravel range. Created by the in-house design team, the new products have been inspired by both current and future market trends and customer feedback.
Zest is proud to introduce the elegant Santorini Swing and the Appleton Gazebo which creates the perfect spot for cooking and dining in the open air. A new Raised Herb Planter will join the space-saving Vertical Herb Planter and the GIMA finalist Stepped Herb Planter in the hugely successfully Grow your Own Range. An al fresco entertaining set, the Rio Hardwood Bench, 2 Chair and Coffee Table Set, is made from Jatoba wood, also known as Brazilian cherry or walnut, giving the finished products a beautiful reddish colour and a very smooth finish.
The new aggregate range includes a choice of coloured decorative gravel, MultiCem Mix® and pre-crated rockery stone, all of which are packed and stored at Zest's Saltney depot.
Zest has also launched the Tiverton Charity Planter with the aim of raising money for Greenfingers Charity, which creates magical gardens for children in hospices. Made from FSC® Certified timber, the planter has an RRP of £14.99 and £2.50 from every sale will go towards the charity. Zest is aiming to raise £10,000.
Commenting on the new products, Steve Morgan Managing Director at Zest 4 Leisure said: "Yet again, our in-house design team has worked really hard to create a number of innovative and stylish new products. We're really looking forward to unveiling them and our very first range of Zest Aggregate decorative gravel at this year's Glee where we'll also launch the Tiverton Charity Planter to raise money for Greenfingers."
The Zest team is looking forward to returning to Glee for the seventh year in a row and talking to customers and offer a warm welcome to the stand.
Alwyn Williams, Head of Zest 4 Leisure said: "Delivering the best in customer service is at the heart of everything we do and being at Glee gives us the perfect opportunity to talk to our customers face to face to find out how we can better support their needs."
Zest will be showcasing its wide ranging marketing support package which includes a digital library of product shots, visual merchandising, PoS and over 50 product assembly and lifestyle videos. The product assembly videos can be used in conjunction with the standard instructions and show every detail of how the product fits together.
To find out more about the support material and to view some of the short lifestyle videos which are available to customers for marketing activity, visit Zest at Glee on stand #20Z30.
Manufactured from pressure treated timber, Zest 4 Leisure's garden furniture is low maintenance, and will stand the test of time with a 10-year guarantee against rot. The timber used is certified by the Forest Stewardship Council and has been harvested from responsibly managed forests.