To Boldy Grow, Like No One Has Grown Before
Company: Durston Garden Products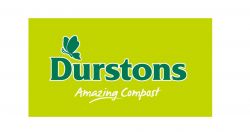 You can always rely on Durston Garden Products to put on a show at GLEE, and this year is no exception.
Model Alice, in a futuristic costume, is well and truly wowing visitors to the Durstons stand in Hall 8, and the message to the trade is two-fold: one of NEW modern packaging from Durstons-which was recently shortlisted at the GIMA Awards for its design element, and the second, a campaign very close to Durstons heart-plastic recycling.
By creating a futuristic character, Durstons wanted retailers to know that everything they do both as a company and as a supplier they do with a conscience, and are constantly looking forward at ways to improve its work ethic and practice in line with everyday environmental issues.
One of the company's recent recycling projects involved looking at how its own plastic packaging was being produced and by simply making a one-off change to the over-printing of the bags it uses, the bags literally over-night, became 100% recyclable. It was such a simple change that Durstons then went viral in a plea to other businesses in the trade to follow suit, and sure enough the campaign fast started to gather momentum.

"And, whilst this may be classed as only 'one small step for retail' says company spokesman, Dan Durston, "if we all pull together and do our bit, it has surely got to be, 'a giant leap for the environment'. After all, until a realistic alternative to this toxic material has been discovered, we are all basically stuck with it, but that doesn't mean we can't reduce, recycle and re-use plastic wherever we can. So surely it's down to us all to do our bit".
Durston Garden Products is a modern forward thinking company whose knowledge and expertise on the subject of growing-media is well respected. At its Somerset base, here in the UK, the company has a long history of managing its land with the environment in mind and continuously works hard to give back to nature whatever it takes out. On top of that, the quality of the growing media it produces, and the value-for-money its products offer, is well documented. What's more, you won't find Durstons products cheaper in any of the supermarkets, let alone in Outer-Space!
So, if you're looking for a forward thinking, out-of-this-world experience this season, then be sure to pop along to Durston Garden Products stand E20-21 in Hall 8 where you can be sure of a galactic welcome!