Wyevale Nurseries' staff join 30 years' service club
Company: Wyevale Nurseries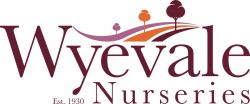 Two members of staff from Wyevale Nurseries in Hereford were recently (July, 2017) presented with medals to honour their long service to the company.
Director, Steve Ashworth and Production Director of the Container Division, Steve Reed both received bronze medals from the Three Counties Agricultural Society in recognition of 30 years' continuous service at Wyevale Nurseries.
Heather Williamson, Joint Chairman of Wyevale Nurseries, said: "We're delighted to be able to celebrate with our colleagues and share our appreciation of them. They have contributed so much to the success of Wyevale Nurseries and are each key members of our team and their dedication goes above and beyond.
"Steve Ashworth came to Wyevale Nurseries having studied and trained at the Royal Botanic Gardens, Kew and in the USA at the University of Wisconsin. Returning to England after four years abroad and a period acclimatising at Hillier Nurseries, Steve then joined us and spent some 25 years starting up and running the growing of forestry seedlings at our transplants site."
Currently he works for Wyevale Nurseries part-time on a number of special projects.
Heather added: "Steve Reed gained a Higher National Diploma in commercial plant production before he started working with us many years ago. He has experience of hardy nursery stock of all ages from cuttings to 25L specimens. Steve works closely with his knowledgeable team to produce top quality crops to the right specifications.
"Steve is so enthusiastic and loves to take visitors on tours of our nursery and explain to them what we're all about."
Wyevale Nurseries is a member of The Three Counties Agricultural Society, which issues medals to people who have completed 30 years' continuous service to horticulture or agriculture with the same employer or holding company.
Ken Nottage, CEO of the Three Counties Agricultural Society, said: "Here at the Three Counties Agricultural Society, we are delighted to recognise the loyal commitment of Steve Ashworth and Steve Reed from Wyevale Nurseries with our 2017 awards.
"The Three Counties Awards seek to champion the long-standing contributions made by horticulture and agricultural businesses such as Wyevale Nurseries to the communities of the Three Counties. They should be extremely proud of their achievements."
The society is a registered charity working for rural industry, the environment and countryside life. It is committed to supporting farmers, growers and horticulturists in the region and developing understanding between urban and rural communities.
For further details about Wyevale Nurseries, which is based in Hereford, please call 01432 845 200, visit www.wyevalenurseries.co.uk, follow the company on Twitter at www.twitter.com/WyevaleNurs or log on to www.facebook.com/WyevaleNurs.