The Greenfingers Charity Garden at The RHS Chelsea Flower Show 2019
Company: Greenfingers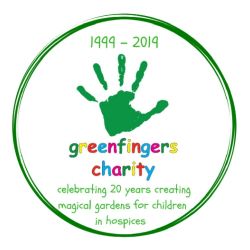 Thanks to the generosity of a private donor Greenfingers Charity will present their very 1st Show Garden at the RHS Chelsea Flower Show. The garden has been designed by Kate Gould for whom it is also her 1st Main Avenue Show Garden.
Greenfingers is a national charity dedicated to supporting children in UK hospices, by creating inspiring, beautiful, well-designed outdoor spaces for life-limited children to enjoy through play, fun or therapeutic rest and relaxation with their family, friends and siblings. Intrinsic to the Greenfingers ethos is the belief that time spent outdoors, away from the bedside, can offer children and families under considerable stress a vital opportunity to embrace the benefits of being in the fresh air and engaging with the nature.
2019 is the 20th anniversary of the Charity and what better way to raise awareness for the tremendous work that they do than with a garden at Chelsea that will be seen by over 150,000 visitors and millions of BBC TV viewers over the course of show week.
Kate's design is a lush green split-level garden, a calming, interactive and uplifting space where life-limited children with complex needs, their families, friends and carers can come together for play, relaxation or peaceful reflection. Set over two levels, with a lift and sloped walkways, 'The Greenfingers Charity Garden' is an accessible space for people of all ages and abilities.
With its sensitive planting and magical water-feature, the innovative garden design aims to highlight and promote the therapeutic benefits of the outside spaces created over the past 20 years by Greenfingers Charity.
The large water feature can be viewed from both levels of the scheme and from multiple seating areas. There are spaces to relax in sunshine and also under canopies. On the lower level, ramps ensure disabled access and the second level of the garden is accessed via a lift system. Hit and miss brickwork walls create privacy, shade and interesting shadows without blocking views.
Another 1st, The Greenfingers Charity garden will be showcasing their very own new plant; 'Choisya Greenfingers', sales of which will generate royalties for the Charity.